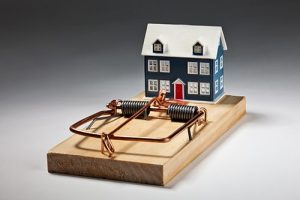 By Sandra Márquez, Lawyer-Barrister.
There are scammers that will try to sell or to rent a property that does not belong to them. In fact, they might not have any connection to the property or its owner, but they appear to have a faculty of disposition that they actually lack. The scammers will ask you for an upfront payment to let you view the property or to hold it as a deposit but in reality they just want to get quick cash after having committed a crime of swindle.
What does the Spanish Penal Code says about the crime of swindle?
According to articles 248 to 251 of Código Penal:
On swindling
Article 248
Those who use sufficient deceit, for profit, to cause lead another into error so as to have him carry out a deed of disposal in his own detriment or that of another, commit swindling.
The following shall also be deemed guilty of swindling:
Those who, for profit and making use of any computer manipulation or similar scheme, manage to perpetrate an unauthorised transfer of any patrimonial assets to the detriment of another;
Those who manufacture, upload, possess or provide computer programs specifically intended to commit the swindles foreseen in this Article;
Those who, using credit or debit cards, or travellers' cheques, or the data any of these bear, perpetrate operations of any kind to the detriment of the owner thereof or a third party.
Article 249
Those convicted of swindling shall be punished with a prison sentence of six months to three years. The amount swindled, the financial damage caused to the victim, the relations between him and the swindler, the means used by the latter and any other circumstances pertinent to evaluate the seriousness of the criminal offence shall be taken into account when setting the punishment.
If the amount defrauded does not exceed 400 euros, a fine of one to three months
shall be imposed.
Article 250
The criminal offence of swindling shall be punished with a prison sentence of one to six years and a fine of six to twelve months, if:
It affects belongings of primary necessity, dwellings or other assets of
recognised social utility;
If perpetrated by forging the signature of another, or by stealing, concealing or fully or partially destroying any process, file, archive or public or official document of any kind;
It affects assets forming part of the artistic, historic, cultural or scientific
heritage;
It is especially serious, in view of the magnitude of the damage and the
financial situation in which it leaves the victim or his family;
The amount of what is swindled exceeds 50,000 euros, or affects a large number of people;
If perpetrated abusing the personal relations that exist between the victim and swindler, or if the latter takes advantage of his corporate or professional credibility;
If procedural fraud is committed. This is incurred by those who manipulate the evidence on which they intend to base allegations or use any other similar procedural fraud in judicial proceedings of any kind, causing the Judge or Court of Law to mistakenly be led to hand down a resolution that damages the financial interests of the other party or a third party.
When committing the criminal offence, the culprit is subject to an enforceable sentence for at least three crimes included in this Chapter. Previous criminal offences that have been cancelled or should have been cancelled shall not be taken into account.
Should circumstances 4, 5, 6 or 7 concur with circumstance 1 of the preceding Section, a prison sentence of four to eight years and a fine of twelve to twenty-four months shall be imposed. The same penalty shall be imposed where the value of the fraud exceeds 250,000 euros.
Article 251
A sentence of imprisonment of one to four years shall be handed down to punish:
Whoever, falsely attributing powers of disposal he does not have over a real or personal property, either due to never having had such powers or due to already having exercised them, proceeds to dispose of, encumber or let such property to another, to the detriment of the latter or a third party;
Whoever disposes of a real or personal property, concealing the existence of any charge thereon, or who, having disposed of it as a property free of encumbrances, were to encumber or dispose of it again, prior to definitively conveying it to the acquirer, to the detriment thereof, or of a third party;
Whoever were to execute a simulated contract to the detriment of another.
Article 251 bis
If, pursuant to the terms established in Article 31 bis, a legal person is responsible for the criminal offences included in this Subchapter, it shall have the following penalties imposed thereon:
Fine of three to five times the sum swindled, if the criminal offence committed by a natural person has a punishment of imprisonment foreseen exceeding five years;
Fine of two to four times the sum swindled, in the rest of the cases. Pursuant to the rules established in Article 66 bis, the Judges and Courts of Law may also impose the penalties mentioned in Sub-Paragraphs b) to g) of Section 7 of Article 33.
You can send me an email if you need legal advice explaining briefly your case for a free initial evaluation.
Sandra Márquez
Lawyer (Barrister)
Nº 17924 of Valencia Bar&Lawyer Association.
sandramarquez@icav.es
Mobile phone: 692931116
Address: Calle San Vicente 112-6 de Valencia
www.sandramarquezabogados.com